Hi there,
This month we continue our look at branding and how your brand can impact your business. Last month we talked about areas you can look at to start defining your brand, and this month we look at common branding mistakes businesses make. If any of this starts to sound familiar don't worry - even some of the biggest brands in the world don't hit the mark every time.
Branding is truly something that integrates into all aspects of your business. Looking at our featured clients for the month below, you can see that we completed different projects for them, including a new website and an internal newsletter - but all of these included some aspects of branding. The new e-commerce website included a logo and consistent company branding in its look and design. Even an internal communication newsletter must stay on-brand for your staff. And in AGI's case, becoming a customer-centric company is an integral part of their brand identity: for both customers and staff. 
Defining your company's brand is a comprehensive process, and we have some great blog articles to help you begin the process. We encourage you to check them out and as always, we'd be happy to discuss our branding services, from discovery workshops to logo design.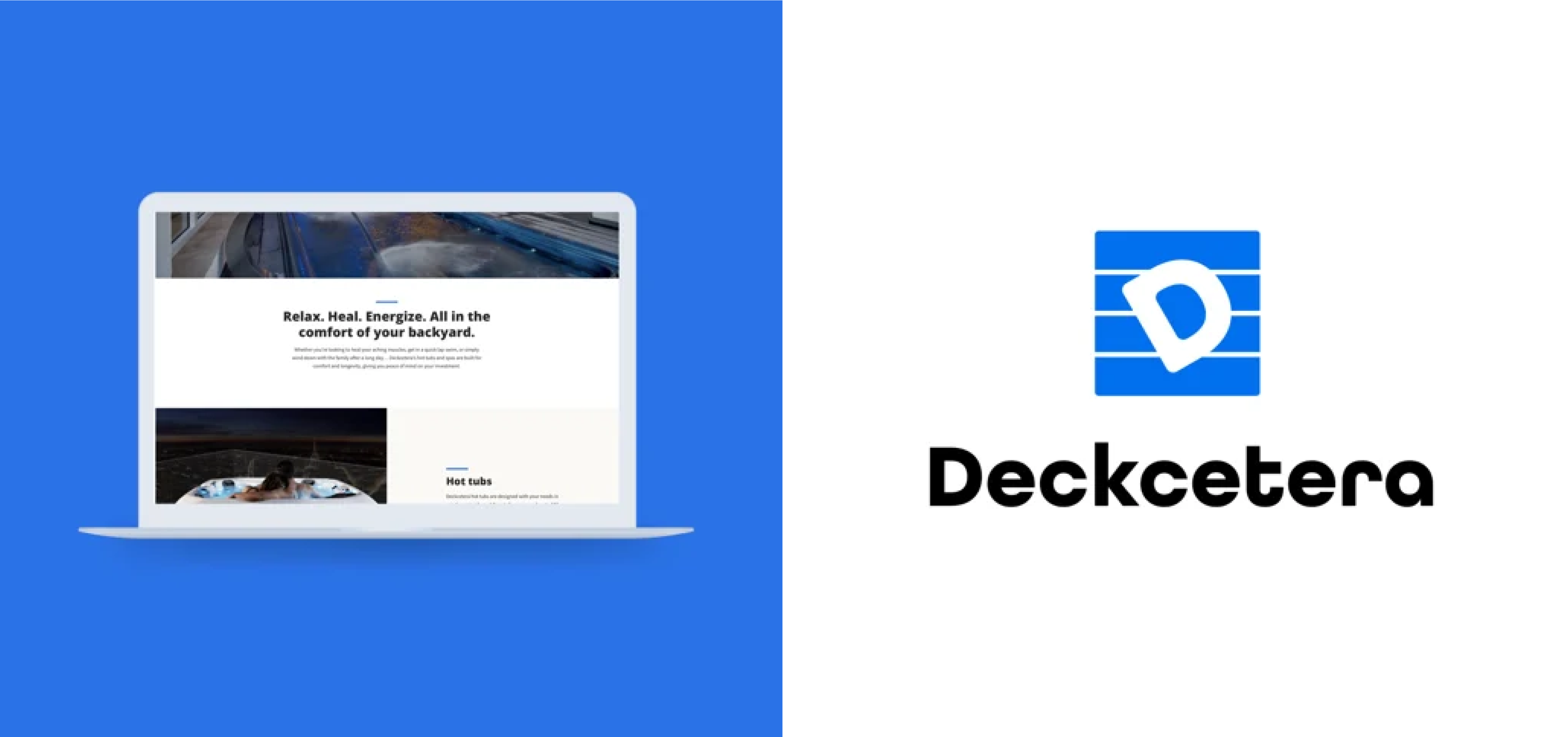 Deckcetera Website Launch
Deckcetera asked us to build them a new e-commerce website. They sell luxury hot tubs, spas and deck accessories in Manitoba. This new company is bringing innovative alternatives to the Canadian leisure marketplace and needed to establish an online presence and selling platform for their products.
We also designed the logo and branding for their website and created a marketing plan that we are executing through digital advertising and social media channels. 
You can visit their new website at deckcetera.ca.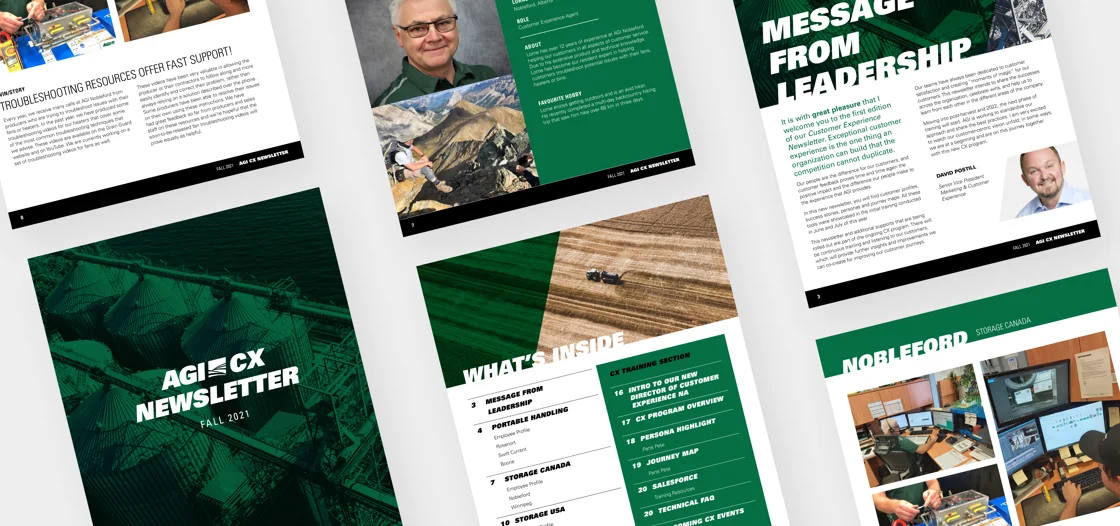 AGI Newsletter and Voice of the Customer Research
We have been working with AGI on its journey of becoming a leading customer-centric organization and helping them create a branded customer experience. To gain a deeper understanding of their customers, we worked with them on building customer experience assets, such as customer personas and journeys, and developing a customer experience training curriculum for their staff.  All this has been backed by customer stakeholder research so the voice of their customer is truly represented and validated.
One of the training initiatives was the creation of an internal customer experience CX Newsletter. This newsletter contains CX training resources such as customer profiles and journey maps, along with employee profiles and examples of customer service successes. Through this and other initiatives, AGI is unifying their customer experience team with the same vision across all AGI touchpoints.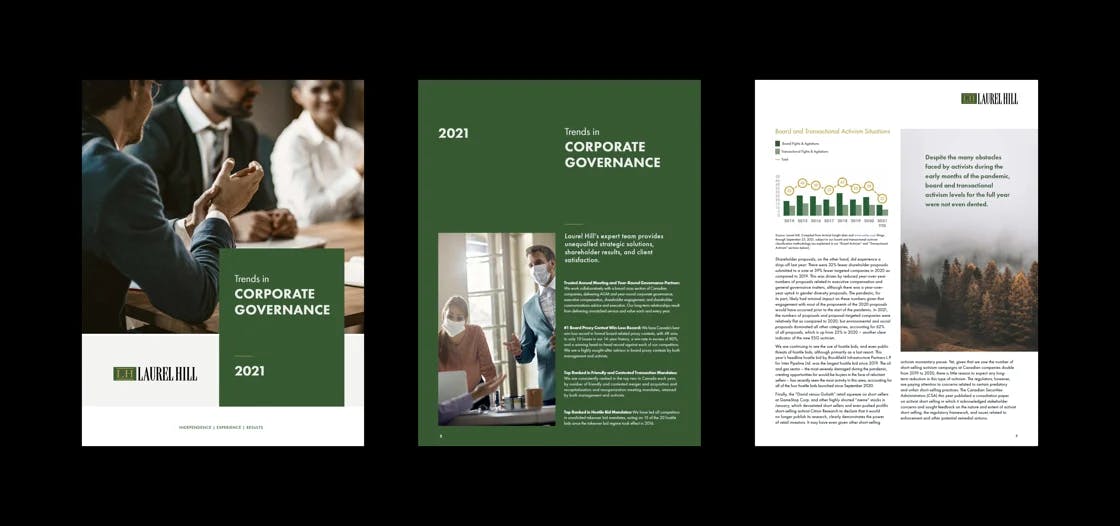 Laurel Hill Trends in Corporate Governance Report
For the third year in a row, we've had the privilege of working with the team at Laurel Hill Advisory Group to develop their Trends in Corporate Governance Report. Laurel Hill is North America's leading independent corporate communications firm. Their annual report is Canada's most comprehensive and longest-running guide to the trends, risks and challenges affecting the Canadian corporate governance landscape. This report focuses on areas such as shareholder activism,  environmental, social and governance (ESG), diversity, and other related areas. Annual reports like these are always a significant but rewarding project.
Click here if you're interested in reading the 2021 report.

Celebrating New Clients 
We want to give a warm welcome to a few new clients that have signed on with us recently. 

Composites Manufacturer of Sustainable Infrastructure (CMSI)
CMSI produces bridges, composite mat solutions and bridge decks of advanced FRP material in their factory in Edmonton, Alta. and delivers them prefab to construction sites nationwide. We are setting up a scalable, go-to-market system for them, including lead generation through social media and digital platforms, along with a Hubspot implementation. 

Canadian Mat Systems
Canadian Mat Systems is a leading manufacturer of temporary structural foundation panels, commonly called "mats". These are used in the oilfield and energy industries to support operational activity in areas of low weight bearing soil conditions. Roadmap is creating a go-to-market strategy for them, and a marketing plan that includes lead generation, social media and digital ads. We are also implementing Hubspot for them. 
Sign up to our newsletter