Hi there,
This month our team attended HubSpot's virtual Inbound conference and felt energized with new ideas and strategies to share with our clients. Some important takeaways for our president Steve were ways to help organizations become customer centric companies, and one of the places that starts with is your brand. Why is branding important? You need to know who you are as a company first, and then you'll be able to communicate that to your target customers in a clear and unified way, and in a way that addresses their needs.  
Your brand is a reflection of your values, which helps your ideal customer understand who you are as a company - and that builds trust. Most importantly, having a defined brand allows you to be consistent in the application of the brand. Why does this all matter? Research shows that branding plays a key part in gaining customers and growing sales:
It takes 5-7 impressions for people to remember a brand, so consistency of your brand colours, messaging and imagery is key.
Using a signature color can increase brand recognition by 80%.
Consistent presentation of a brand can increase revenue by 23-33%.
81% of consumers said they need to be able to trust a brand before they would buy from them.
How do you start creating your own brand? Our latest blog post below looks at six key areas you can start with to define your brand. Or better yet, let us help. 
We'd love to talk to you about our branding workshops to help you create or redefine your company's brand. Our branding process is about uncovering the type of brand you aspire to be. We start with research and discovery exercises, then create a set of foundational language we use to create the rest of your branding materials like name, logo, design guidelines, websites, sales assets and more.


What We Learned from the HubSpot Inbound Conference
Our team virtually attended HubSpot's Inbound Conference this month. We learned a lot and are excited to share some of the takeaways with you. Here are a few of our favourites:
How successful brands use video content
New SEO strategies
How to help organizations become customer centric, from branding to content to the sale process and more
How to custom build, or integrate, existing business processes in the new Operations Hub in HubSpot
And of course, everyone agreed that seeing Oprah speak was the highlight and her many pearls of wisdom like: "Life is yours to design."
There is so much that HubSpot can do for your business. If you're not using it already, talk to us about how it can benefit you.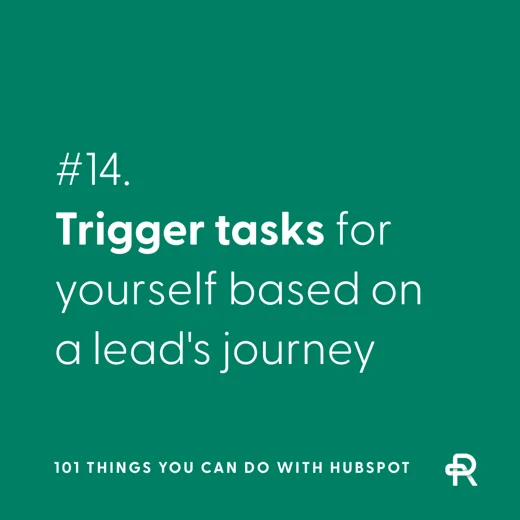 Follow Us on Social Media
Are you following us on social media? Give our pages a like to get great marketing tips, news about the marketing industry and new technologies, check out client profiles, new services and much more. Find us on Facebook, Instagram and LinkedIn.
Here's one post in a series about all the ways you can use HubSpot to grow your business:
"Every good salesperson knows to always set the next action. Depending on your industry and prospective client list, this can mean keeping track of a lot of action items, like next follow-up call, demo presentation, and so on.
In HubSpot, you can automatically create tasks for your team as prospective clients (leads) move along the sales process. You can even set up an automated alert if a lead hasn't been contacted in a few days. No need to keep that old excel sheet up to date with a system that helps you stay on top of your sales and leads."
Sign up to our newsletter