When people become aware of your brand, where do they go?
 Your website.
Your website becomes your brand ambassador to move a potential customer, vendor or future team member to the next step. Your user experience on your website for that moment in time is the only thing that matters.
A great user experience (UX) can do the following:
Increase customer satisfaction and loyalty.
When customers have a positive experience interacting with your business, they are more likely to return in the future and recommend your brand to others.
A good UX can help businesses stand out in a crowded marketplace. Be better than your competitors, and you will be remembered.
Finally, a good UX can increase conversions and revenue. When customers are able to easily find what they're looking for and complete their desired action (whether that's making a purchase, filling out a contact form, or something else), businesses are more likely to see a positive return on investment.
So how do you create a great user experience on your website? Here are six areas to consider:
Design a user-friendly customer-centric website
Your website is the first major interaction customers have with your brand, so it is important to make sure it's easy to navigate and visually pleasing. Beyond this, your site must focus on the needs of your customers. Understanding your customers' needs is key to providing a great user experience. This can be achieved by conducting market research, gathering customer feedback, and analyzing customer behaviour to identify pain points and areas for improvement.


Optimize for mobile
With more and more people accessing the internet on their mobile devices, ensuring your website is optimized for mobile viewing is crucial. This means designing with a mobile-first mentality and ensuring all pages and features work properly on a smaller screen.


Make it easy with calls to action and navigation
Customers should never have to guess what action you want them to take on your website. Whether it's adding an item to their cart or filling out a contact form, make sure the call to action is clear and prominently displayed. Further, simplifying and streamlining processes can reduce frustration and improve customer experience. This can include optimizing website navigation, simplifying checkout processes, and reducing wait times for customer support.


Communicate clearly
Clear and effective communication is essential in providing a great user experience and customer experience. This can include providing detailed product information, responding to customer inquiries promptly, and communicating any changes to products or services on all channels.


Offer excellent customer service
Even with a well-designed website, customers may still have questions or issues that need to be addressed. Providing excellent customer service can go a long way in creating a positive user experience. Make sure to respond to inquiries promptly and professionally, and consider offering multiple channels for customers to reach out (such as email, phone, and live chat). Beyond the tools, ensuring that your staff is well-trained in providing a great customer experience is also crucial.


Personalize the experience
Finally, consider ways to personalize the user experience for each customer. This could be as simple as addressing them by name (Hi there 👋🏻) in emails or offering product recommendations based on their past purchases. These small touches help make customers feel valued and increase the likelihood of them returning to your business.

In conclusion, creating a great user experience is essential for businesses looking to attract and retain customers in today's crowded marketplace. By designing a user-friendly website, optimizing for mobile, making your navigation easy with clear calls to action and clear communications, offering excellent customer service, and personalizing the experience, businesses can create a positive and memorable user experience that keeps customers coming back for more.

Schedule a complimentary 15-minute discovery call with Roadmap President, Steve Whittington, to discuss how a CRM can help improve your business.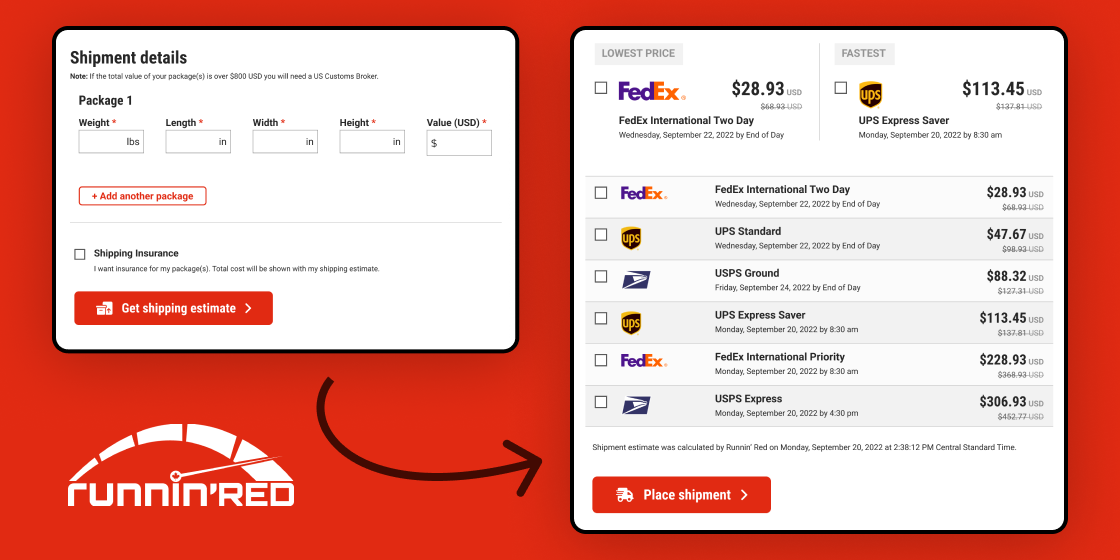 Runnin' Red | Custom Development Case Study
Runnin' Red provides shipping and logistics services to customers who need goods imported and exported. They were looking to expand their service offerings and needed a partner who understood e-commerce to help implement new technology on their website. They wanted to create a new service where customers could purchase shipping labels directly on their website.
Roadmap made technology recommendations, then carried out the implementation to allow users to generate quotes online and purchase the shipping labels. Using our collective capabilities around UX/UI and custom web development we were able to deliver a full self-service solution. We brought several systems together to provide a seamless customer experience.
Read the case study here.

#RefreshWithRoadmap: Customer Acquisitions
This video covers everything you need to create a predictable, reliable sales forecast:
Sales process: what it is and what you need to define yours
The four sales methodologies and how they each work
What a playbook is and should include.